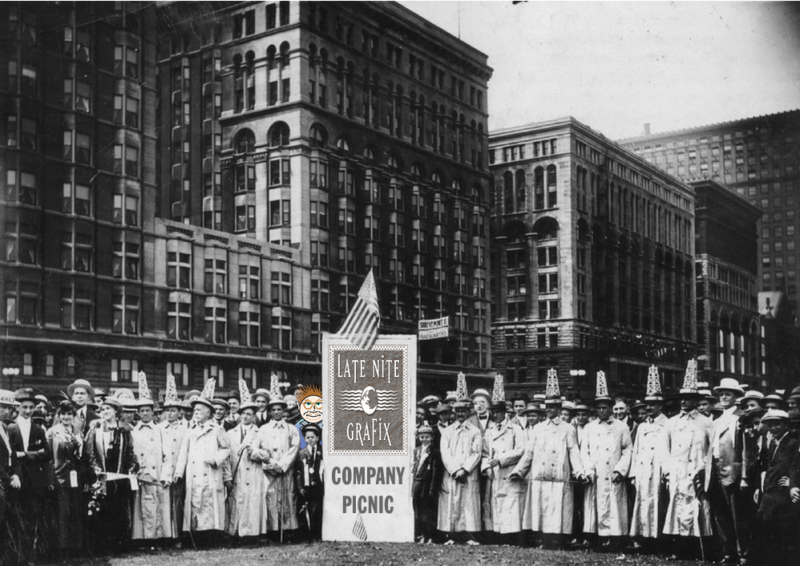 LNG Company Picnic from the early 1920's
Originally established in Shreveport, Louisiana; Late Nite Grafix, Inc. has been located in New Mexico since 1989.
We are a full-service graphic design firm that specializes in corporate communications. From logo design, brochures, visitors guides, annual reports, web sites, magazine and newspaper ads, and posters; we deliver what we promise. Over the years we've produced innovative advertising and design for a diverse group of clients including AT&T, The Santa Fe Opera, the Museum of New Mexico, Eight Northern Indian Pueblos Council, Sun Healthcare Group, New Mexico Arts, New Mexico MainStreet and Ski New Mexico; among others.
We offer turnkey management of your project—effectively and on time from start to finish.
And we deliver what we promise. There are no surprises. Once an appropriate and acceptable budget has been developed by us and approved by you, we'll work within that budget to not only meet, but exceed, your expectations.
Celebrating 45 Years in Advertising and Graphic Design
In 1975 I graduated from college with a degree in advertising. Forty-five years later, I am still working as a graphic designer.
Since there's probably not a lot of people one meets in life who graduated from college with a degree in a field they have stayed in for over forty years, I thought I would tell you the story of how it all came to be.
And along the way, I've had quite a few people help me in my career so I'd like to mention them as I tell the story and thank them for what they did for me.
This will be a long post so just be patient.
I can't start without thanking the person who first pointed me in the direction of advertising.
Originally, I was majoring in zoology. I wanted to be the next Jacques Cousteau, but, according to my math grades that wasn't working out (in a big way). My girlfriend at the time, Linda Birdsong, was studying advertising and she suggested that I take some art classes with an eye on advertising. Desperate and not relishing the thought of getting drafted and going to Viet Nam, I decided to give it a go. Her idle suggestion really started me on my career.
The advertising program at that time was run by Albino Hinojosa, an incredibly talented painter. He lit the match under me to make advertising & design my lifelong passion.
After graduating I moved back to my hometown and I worked a couple of jobs while trying to find a job at an advertising agency. As most kids starting out do, I began doing freelance work.
Then Mike Clark hired me to work with him in the advertising department of a big, regional furniture department store. Mike was a high school and college buddy so I was really excited to work with a friend in one of my first real advertising jobs.
But working in the advertising department of a retail business was not what I wanted to do. I began getting freelance work from area advertising agencies. One of the first was Lamb and Associates. A strange fellow named Dan Baldwin was the account executive and we became fast friends and remain so to this day. "It's under the backdoor mat" became a catchphrase between us as I would often leave work for him at his company's back door since I usually worked late into the night. One day that catch phase took on an unfortunate turn as the work I had finished for him and left under the mat had disappeared and was never found. Over the years, Dan has periodically reminded me of that.
While working at a flexible packaging company (designing bread wrappers) I got a chance to interview with one of the best advertising agencies in Shreveport…Dolph Miller & Associates. I'm not sure what Dolph Miller saw in my portfolio that led him to hire me, I doubt I would have hired me based on my portfolio, but he did and I am eternally grateful for him giving me my first chance working at an advertising agency. I got married to my wife, Renee Cascio, while working at Dolph's. To say she has always stood by me along my journey would be an understatement.
I met some great and creative people at Dolph's…Dolph foremost among them. Nancy Walkup, who I became friends with in college, did freelance work for us. She was one of the most detail-oriented production artists I have ever met. I tried to hire her full time but she was smarter than that. Then came one of the best situations I could ever have imagined…Michael Williams, another high school and college buddy of mine who came in as an associate designer. We shared a room together and many high jinks ensued. (A few of them should have resulted in arrest records.)
Mike and I helped spur each other on to create better designs than we did before we worked together. I have always wondered what a flash we could have created had we ever formed our own design firm.
Later on, Dolph hired David Gephardt as an account executive. He had one of the sharpest wits I had ever been around. By this time we were pretty much your definition of an advertising power house.
Across the street from Dolph's was the firm, Focus Design. Jim Huckabay was the owner and top designer. I always envied him and the work his folks, including Dean Pulley, did. When I first met Dean he was silkscreening t-shirts in his garage. Today he spends most of his life driving with his charming wife on America's backroads going to and from his homes in Oregon and Florida.
A few years later, I left Dolph Miller and Associates to work at Carter Advertising. My buddy, Dan Baldwin was working there and the chance to work together again was too great to pass up. I started doing freelance work again, although the owner expressly forbade it. But Dan's wife, Mary Baldwin, was the editor of Shreveport Magazine, she offered me the opportunity to do magazine work and I was feeling my oats and wanting to stretch out and do work that I wasn't getting at the agency.
Doing an illustration for Mary's Shreveport Magazine about 2:00 one morning I wanted to sign it but was afraid if I used my name the agency owner would find out, so, instead, I signed it "Late Nite Grafix". That kind of became an open secret in the Shreveport advertising world.
Carter Advertising or "CartAdCo", as Dan and I called it, was a fun place to work (for me and Dan, at least) until Dan left to become a freelance copywriter. I continued working there until the day the owner fired me because I was not a "corporate man". I learned a valuable lesson that day…right or wrong doesn't matter. What matters is who has the power to fire your ass.
I went back to freelancing. I named my business "Late Nite Grafix".
While I was designing a poster to announce the birth of my son, Dennis Walker, a pal and designer from CartAdCo, gave me some great advice I have continued to design by: "If it's just decoration, take it off."
Around this time I met this funny fellow named Bill Joyce. He was an up and coming children's book writer and illustrator. He illustrated a calendar for a client of mine. Later on, I helped him design a book he was writing and illustrating, "Dinosaur Bob and His Adventures with the Family Lazardo". His publisher would not give me credit for designing the book so Bill redid one of the images, put my name on a storefront sign and then gave me one of his original paintings. I look at it every day in my office and think how it has continued to increase in value as he has gotten more and more well-known. But what I value even more is our ongoing friendship.
Although I was hotly pursuing a career in advertising and graphic design, I wasn't sure I wanted to keep doing that in Shreveport. Since the late 1970's, I had been traveling to the southwest hanging out with another high school and college buddy, Bryan Brown, who was working at Grand Canyon National Park. I would visit him at the park to do backpacking and river trips and I began thinking there might be a life for me beyond the piney woods of northern Louisiana.
Then one night at a party at Rob Smith's Reel Productions, I met a guy named John Tollett. He worked in the advertising department of a local hospital…but lived in Santa Fe, NM. I was confused but intrigued because my wife and I had been visiting Santa Fe and thought it might be a good place to move. John explained to me that he worked one week a month at the hospital and then went back to Santa Fe and did design work at a place called Johnson and Associates for the other three weeks.
I did not want to uproot my family (my son Dylan Cascio had just been born) and move to a new city in a new state and try to do freelance work and support my family. I felt I needed more security so I talked to John about me substituting for him at the Santa Fe agency when he was in Shreveport. I figured that would be a good way to see if we might like living in Santa Fe and it would also be a way for me to get a feel for what the job market was like.
I worked a few times at Johnson and Associates and also began meeting some of the other agencies and design firms in Santa Fe and Albuquerque. While working at Johnson and Associates I got to know the owner, Ruth Johnson, well. She was a go-getter and not afraid to tackle any project, office mate or client head on.
After a while I got a few job offers. One was from a design firm called Vaughn Weeden Creative in Albuquerque. While Santa Fe was were my wife Renee and I wanted to live, the chance to work at a design firm like Vaughn Weeden was too tempting to pass up. They had national clients, a growing regional reputation and there was no other design business like them in New Mexico. One of their clients was the Santa Fe Opera. I worked on some projects for the opera which would turn out to be fortuitous later on.
We moved to New Mexico and I went to work at Vaughn Weeden and although I was only there a year, I learned more about design from the two owners, Steve Weeden and Rick Vaughn than I had ever learned before. I also got to meet and become friends with fellow designer, Dan Flynn. He was a tough competitor when we were designing projects and he mostly beat me every time with his better design skills.
But Santa Fe was still calling.
Having kept in contact with some of the folks I had met in Santa Fe, a wild, hare-brained idea was proposed. We would create an advertising agency composed of four principals…John Tollett, Ruth Johnson, Tomas Rodriguez (the owner of a design firm called Impressions) and me. We called it JRTC Creative. Armed with the courage I developed working with big-time clients down at Vaughn Weeden Creative (everyone in Santa Fe refers to Albuquerque as "down there" and everyone in Albuquerque refers to Santa Fe as "those assholes"), I urged my fellow partners into tackling bigger clients. I called it my "Pros from Dover Strategy". Just like in the movie "M*A*S*H" all we needed to do was walk into a meeting with a potential client, act like we were the "Pros from Dover", and tell them that yes, we could handle a massive account like theirs, (even if we had never tackled an account anywhere near that size).
More times than not, that strategy worked. JRTC Creative quickly became one of the largest agencies in Santa Fe. But, as the saying goes, too many cooks spoil the broth. Eventually, JRTC Creative fell apart. I left to go back to work as the creative director for a computer book publishing company and then the other principals also went their own ways.
After a year or so, the Santa Fe Opera came back into the picture. At a meeting of the Santa Fe Ad Club, the opera's marketing director, Tom Morris, was the featured guest speaker and announced, after years working with Vaughn Weeden Creative, he was looking for a new design firm. I was the first one to reach him after he finished his talk.
I picked up the opera's account and Late Nite Grafix was really back in business. Shortly after getting the opera's account, I also got their assistant marketing manager, Julie Blanke. She convinced me I needed to hire her to become my office manager and it was one of the smartest business decisions I ever made. She quickly became the most important person in my business.
Together, we had clients like the Museum of New Mexico, and New Mexico MainStreet whose director, Elmo Baca, became a long-term friend. When he left NMM and became director of New Mexico Historic Preservation Division I continued to do design work for him.
At one point, I had the dream of building my business so that I could play (mostly ski, at that time) while my business made money for me. So I began hiring employees. While it mostly worked out ok and I met some great people like Bob Bercaw (Bob #1), Claire Tyrpak and Tracy Tague (Bob #2 and #4…long story), I soon began to feel like I was playing kindergarten cop with my employees all day, and then working all night to catch up with my design work.
As employees left for other opportunities I stopped hiring replacements. Soon it was just me and Julie. We carried on as a duo for many years.
Out of the blue, one day, another high school buddy and best friend, David Sprawls, called me for help. He was working in New Jersey for one of the three major divisions of AT&T, AT&T Submarine Systems (this division was in responsible for designing, building and maintaining undersea fiber optic cable systems). He was charged with running an international conference being held in Hawaii and his division's graphic designer, who was supposed to design and produce the conference's collateral material, had instead, decided to take a two week vacation. He asked me if I could help. Putting on my best "Pros from Dover" attitude, I said yes. I ended up pulling it all off and making him and Late Nite Grafix look good to his bosses. Although I started doing work for AT&T Submarine Systems I quit after a while when I realized their marketing department's managers position was nothing but a revolving door and it became too hard to constantly fly there and reintroduce myself to yet another marketing manager.
After 9-11 I decided to pare down my business so I could focus on taking care of my father. He lived with us and had Parkinson's and it was beginning to affect him more. I also had begun getting more involved in New Mexico Search and Rescue. I had become a field coordinator and was being called out night and day at all hours to run search and rescue missions. It was about this time I began to realize there was more to life than just being a graphic designer. At one point my wife told me she hadn't realized she "had married a mountain man". Mountain man or not I felt like being in search and rescue was a great way for me to give back to my community. Along the way, I did help save a few people, so I am pretty proud of that.
I talked to Rich Williams, the new director of New Mexico MainStreet, one of my largest and most favorite clients and helped Julie get a job there as his assistant. So Julie continued to tell me what to do, even though she no longer worked for me.
Through the years I have worked with a lot of great people and most of them became lifelong friends.
Folks like the ones I have mentioned and also Amy Bianco, Frank Hill, Nell Shehee, Ray Dewey, Roger Carson, Anna Blythe from New Mexico Arts, Don Liponi, Barbara Hagood Bellomy, Tom McCampbell, Lorie Kennedy & Joe Campbell from JB Beaird Advertising, among others. Photographers like Scott Smith, Anthony Garner, Dick Goodall, Chris Corrie and Carolyn Wright. Printers and print salesmen like Steve Werges, Norb Rasmussen and Bryon May. All the folks at Albuquerque Printing (now known as the Captiva Group) and other places like Aspen Printing in ABQ and Get Type (now ImageRatio). Gary Doberman at Tax Know taught me the meaning of not charging tax to non-profits. Last but not least, a special thanks to Dick Wagner for doing his best to keep me from periodically bringing down the entire inter-webs.
Throughout my career, I have done a wide variety of work for a lot of different businesses and organizations. But I could not have done any of it without the help of the folks I mentioned above. They all conspired to help me be the "Pro from Dover" time and time again.
(A note: While I may have left some people out, believe me, it was not intentional, it was just the result of too many years, a faulty memory and probably too much fun.)